---
30
Oct 2016
GH15 is joining in a national call to prayer before the 2016 Elections:
As One – A National Appeal to Heaven
40 Days of Prayer Walking the Nation
Here is Today's Focus:
Media
(Radio, Television, Print, and Internet)
The impact of all forms of media in the American culture cannot be overemphasized. Whether it is the print media (newspapers and magazines), television, radio, or the rapidly spreading influence of the Internet and all forms of social networking, media should be an object of our daily prayers. This is why you will see this on our daily list for focused prayer as one of the "seven spheres of influence." Today we will take added time to concentrate our prayers specifically on this vital focus. Pray that God will use publishers of newspapers and magazines as well as Internet websites to report in such a manner that is ethically and morally sound. Ask that God will redeem the media to advance His Kingdom. Claim the same for the television industry. Ask that God will continue to use radio in a significant way to spread the Gospel globally. Especially pray for the growing influence of the Internet and social networking. Pray against the spread of pornography on the Internet and that God will cause those who "surf" the Internet to come upon godly websites that draw them to salvation in Jesus Christ.
Today's Passage:
Ephesians 2:1-7
"As for you, you were dead in your transgressions and sins, in which you used to live when you followed the ways of this world and of the ruler of the kingdom of the air, the spirit who is now at work in those who are disobedient. All of us also lived among them at one time, gratifying the cravings of our flesh and following its desires and thoughts. Like the rest, we were by nature deserving of wrath. But because of his great love for us, God, who is rich in mercy, made us alive with Christ even when we were dead in transgressions—it is by grace you have been saved. And God raised us up with Christ and seated us with him in the heavenly realms in Christ Jesus, in order that in the coming ages he might show the incomparable riches of his grace, expressed in his kindness to us in Christ Jesus."
---
28
Oct 2016
GH15 is joining in a national call to prayer before the 2016 Elections:
As One – A National Appeal to Heaven
40 Days of Prayer Walking the Nation
Here is Today's Focus:
Justice
(The Courts and Judges of America)
Justice is defined as "the upholding of what is just, especially fair treatment in accordance with honor, standards, or law." It is to "treat adequately, fairly, or with full appreciation." The judicial branch of the government is clearly an influential authority in America. Their decisions touch the life of every citizen and, when functioning properly, help protect individuals from exploitation, settle disputes, and punish criminals who break the law. Ask the Holy Spirit to show you areas in your own nation or community where justice is desperately needed. Pray specifically for areas of the government that you know to be lacking in administering true justice to people. As followers of Jesus we should be model citizens who, "Defend the poor and fatherless; do justice to the afflicted and needy. Deliver the poor and needy; free them from the hand of the wicked" (Psalm 82:3-4, NKJV). Pray that God will raise up more Christian judges and lawyers in America who are guided by honesty and truth.
Today's Passage:
Proverbs 2:1-9
"My son, if you accept my words and store up my commands within you, turning your ear to wisdom and applying your heart to understanding—indeed, if you call out for insight and cry aloud for understanding, and if you look for it as for silver and search for it as for hidden treasure, then you will understand the fear of the LORD and find the knowledge of God. For the LORD gives wisdom; from his mouth come knowledge and understanding. He holds success in store for the upright, he is a shield to those whose walk is blameless, for he guards the course of the just and protects the way of his faithful ones. Then you will understand what is right and just and fair—every good path."
---
27
Oct 2016
GH15 is joining in a national call to prayer before the 2016 Elections:
As One – A National Appeal to Heaven
40 Days of Prayer Walking the Nation
Here is Today's Focus:
Steadfastness:
Firmly fixed in place; not subject to change; firm in belief, determination, or adherence
Hebrews 6:19-20 (NKJV)
"This hope we have as an anchor of the soul, both sure and steadfast, and which enters the Presence behind the veil, where the forerunner has entered for us, even Jesus, having become High Priest forever according to the order of Melchizedek."
PRAY:
Jesus, I praise you today for your steadfastness. I thank you that regardless of the outcomes of this election, we have your hope to anchor our souls, sure and steadfast. No matter the policies or leaders put in place this November, we can trust in the steadfastness of your kingdom and your sovereignty. I pray that you would remind your people of your steadfastness as we participate in the political arena this year.
For further reading: Philippians 3
---
26
Oct 2016
Retrace the Covenant Tour
The "Retrace" team was in Boston yesterday. They sent word from Faneuil Hall, Boston: "Bostonians expressed their dissent here against oppressive policies during the years leading up to the American Revolution. Boston's Samuel Adams, a second cousin of John Adams, was one of the better-known voices of liberty from oppression. Persuasive speeches and writings from here were carried throughout the colonies and brought them unity to the movement."
"But one who looks intently at the perfect law, the law of liberty, and abides by it, not having become a forgetful hearer but an effectual doer, this man will be blessed in what he does." (James 1:25; NASB)
Give Him 15 minutes in prayer:
Let the voices of freedom rise in this land, even as they did in Boston prior to the Revolutionary War.
Call for the speeches and writings of a fresh birthing of national freedom to ring throughout the land once again!
Prayerfully uncap the wells of liberty in this nation and release a new "sons of liberty" movement across the land. This will not be a political movement, but one of Believers rising up to say that this nation is one that will honor the Lord!
Declare, "There is no king but Jesus!"
A prayer you can pray:
Father, we are so encouraged to hear of the words and deeds of our forefathers as they established this nation in covenant with You. May our voices rise, as theirs did, with a cry for God-fearing freedom in this land. Lord, raise up another generation of "sons of liberty" speaking and writing and uniting a nation under the banner of the cross. We declare this land free, and our laws just and righteous! We decree that we are free to spread the Gospel of the Kingdom from sea to shining sea! We have no king but King Jesus, alone!
Today's decree:
There is no king but Jesus in the United States of America!
---
25
Oct 2016
GH15 is joining in a national call to prayer before the 2016 Elections:
As One – A National Appeal to Heaven
40 Days of Prayer Walking the Nation
Here is Today's Focus:
Liberty and Freedom
(Issues of Human Rights and Individual Freedoms)
One of the most important of the "seven spheres of influence" involves government and politics. People around the world are willing to lay down their lives for the freedoms expressed in the United States' Declaration of Independence in 1776: "We hold these truths to be self-evident, that all men are created equal, that they are endowed by their Creator with certain unalienable Rights, that among these are Life, Liberty and the pursuit of Happiness." Pray that we, as Americans, do not forget that the freedoms and liberties we experience are gifts from God that can be lost if we turn our backs on Him. Pray that God will intervene in America's national and local governments in ways that promote individual freedoms. Pray that more devoted, righteous people will seek and be elected to public office, thus helping provide a moral compass for their communities and nations, for where there is no vision, the people perish (Proverbs 28:18).
Today's Passage:
Romans 8:19-21
"For the creation waits in eager expectation for the children of God to be revealed. For the creation was subjected to frustration, not by its own choice, but by the will of the one who subjected it, in hope that the creation itself will be liberated from its bondage to decay and brought into the freedom and glory of the children of God."
---
24
Oct 2016
Finding the Old Covenant Roads
The "Retracing the Covenant Tour", which Chuck Pierce prophesied to Dutch, began yesterday. Dutch will be retracing the places where God made covenant in America. There are a total of 13 on our team praying together from city to city and state to state over the next few days. Below is each city where they are going to pray:
Cape Henry – done Sunday
Jamestown – done Sunday
Plymouth
Boston
York
Philadelphia
Washington D.C.
Thank you for covering the team and each city in prayer.
"The LORD said to his people: 'You are standing at the crossroads. So consider your path. Ask where the old, reliable paths are. Ask where the path is that leads to blessing and follow it. If you do, you will find rest for your souls.'" (Jeremiah 6:16; NET Bible)
A prayer you can pray:
Father, we are very sure You founded this nation for Your purposes. Time and again the people you sent here, full of faith and vision from You, dedicated and recommitted this land to You. They suffered great hardships to carry out Your will, they bowed their knees in prayer, they erected crosses and built altars of thanksgiving to You, and they recorded it all in various documents. This nation is Your idea and we will travel back to these places of dedication and covenant and redig the wells, Lord. Thank you for leading this team so clearly. May they do Your full and perfect will on this journey. Keep them safe and well. In Jesus' Name, amen.
Today's decree:
We will use our voices to pray and our actions to vote for an American future that will honor the Lord!
---
23
Oct 2016
Prayer Call for America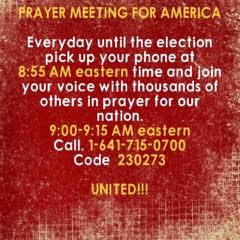 I want to state upfront that I am neither a registered Republican nor Democrat. Years ago, I concluded that if my "calls to prayer" were to be trusted by believers across the board, I would have to issue them as an independent voter. With this in mind, I relinquished my party affiliation, along with the rights to vote in primaries, help shape party platforms, possibly become a delegate, etc. and became an Independent. Since then, like many of you I have become fed-up with both parties—disillusioned with the Republicans, offended and appalled by the Democrats. I say this to assure you that I am not making this appeal in order to stump for "my party's candidate."
But, pray, we must, and vote, we must! "Neutrality" is not a valid option at this critical crossroads in history. The times demand that we make a stand! If not for, make your stand against. These are some of the things we will be praying about and how we must posture ourselves to vote:
Vote against an unelected, unaccountable, overreaching, out of control Judiciary that believes it has the right to reshape America.
Vote against the unethical, biased, lying and untrustworthy media. (We will never reclaim America until we reject their influence. They may be the single greatest obstacle to America's recovery.)
Vote against a weakened military.
Vote against a loss of national sovereignty and a one-world government.
Vote against open borders.
Vote against policies that enable radical Islamist terrorism.
Vote against the removing of our 2nd Amendment rights.
Vote against higher taxes.
Vote against Obamacare.
Vote against the redefining of marriage. (It is not too late to reverse this.)
Vote against abortion-on-demand, partial-birth abortion, and Planned Parenthood with its selling of babies' body parts.
Vote against the silencing of the church. (Only the totally naïve do not see this coming quickly.)
Vote against revising our history and the loss of our Judeo-Christian heritage.
Vote against the politicization and exploitation of racism, and the polarizing of America.
Vote against the slandering and weakening of law-enforcement.
Vote against the politicization of the Justice Department, the FBI and other important departments of government. (Both departments are now undeniably and shamelessly used for political purposes and to oppose Christians and conservatives.)
Today's decree:
We will use our voices to pray and our actions to vote for an American future that will honor the Lord!
---
22
Oct 2016
Sense of Urgency
The sense of urgency I feel is hard to put in words. I have prayed and wept much over the condition of our nation, and continue to be deeply burdened. We are so close to the precipice of a complete self-destruction—a devastation of such magnitude that it would take decades to recover. Some believe a complete recovery would never be possible. The America we have known and loved is being systematically dismantled and reshaped.
"Again, if the trumpet sounds a muffled call, who will prepare for battle?" (1 Corinthians 14:8; NASB)
"Repent therefore, and turn again, that your sins may be blotted out, that times of refreshing may come from the presence of the Lord, and that he may send the Christ appointed for you, Jesus, whom heaven must receive until the time for restoring all the things about which God spoke by the mouth of his holy prophets long ago." (Acts 3:19-21; ESV)
Give Him 15 minutes in prayer:
Repent on behalf of the nation for choosing a selfish, sinful path instead of the one God would desire for us.
Ask the Lord to create an urgency within you to pray as never before and to get as many as possible out to pray and vote.
This is not a time to be silent, but a time to make noise! Tell the Lord out loud that you do not want America to fall, but to rise again into the calling He created the USA for!
A prayer you can pray:
Father, stir up within me an urgency and a cry that You will hear. I repent on behalf of my nation, the United States of America, because, Lord, our hearts are hardened against You. Even those in the Church sin against You and think nothing of it. We have leaders that spit in Your face by their actions and the laws they pass! I am undone with grief and don't know what to do, except to pray with great passion and to open my mouth and tell my family, friends and neighbors that something has to change! Please act on our behalf, Jesus! Restore! Amen.
Today's decree:
The Lord will cause me to be as a trumpet proclaiming the urgency of the times and the need for a Divine shift in this nation—a shift to make God first!
---
21
Oct 2016
Powerful Words
We know our words are powerful. As we release them, the atmospheric conditions of the earth changes. We believe that God takes them to the ends of the earth on the winds of the Spirit. Some of our words will "take down and shake down", but all will be synced with His redemptive purposes as we speak the Word of God. The words will grab cords of darkness and unravel them. We are more than voices—we are the voice of God in the earth.
"And Jesus answered them, 'Have faith in God. Truly, I say to you, whoever says to this mountain, 'Be taken up and thrown into the sea,' and does not doubt in his heart, but believes that what he says will come to pass, it will be done for him. Therefore I tell you, whatever you ask in prayer, believe that you have received it, and it will be yours.'" (Mark 11:22-24; ESV)
Give Him 15 minutes in prayer:
Understand that you are God's hands, feet and voice in the earth! Get out His Word, open it up and proclaim it!
Get excited about His Word! Get excited about speaking it forth! Ask Him to kindle an excitement if you feel a little cold-hearted. Does He need to heal your heart from former trauma? Has the enemy tried to shut you up? It's time to get free!
As you speak the Word, see the angels grab hold of the words and take off with them, carrying them to the place they need to go and dropping them in the exact right spot! Rejoice!
A prayer you can pray:
Father, today we agree with You! We are the voice of the Lord into the earth. We are the prophetic decree of the Lord that speaks what You will go forth and do. We will overthrow and uproot, build and plant. We accept the assignment of this time. We are excited and ready for everything you are doing! We are excited about those that ride the fiery winds of heaven, your angelic host, taking the Word of the Lord to the ends of the earth. We boldly decree that everything will end the way You say it will end. Everything You decree will come to pass! In Jesus' Name, amen.
Today's decree:
I am willing to be a mouthpiece for God in the earth and proclaim His Word in the nations!
---
20
Oct 2016
GH15 is joining in a national call to prayer before the 2016 Elections:
As One – A National Appeal to Heaven
40 Days of Prayer Walking the Nation
Here is Today's Focus:
Health Care
(Doctors, Nurses, and Medical Professionals)
Pray today for those who do not have adequate medical care and for those who have a heart to help meet this need in our nation. Ask God to use Christian doctors and nurses not only to minister to the physical needs of their patients but to spiritual needs as well. Especially pray for those involved in medical missionary enterprises as they often risk contracting the very diseases they seek to treat. Pray by name for doctors, nurses, and other medical professionals you may know. Pray that those Americans who are followers of Christ will make themselves available as frequently as possible to go on short-term mission trips to use their unique gifts to help the sick and suffering in less-developed nations of the world. In this way they will help fulfill God's promise of Psalm 72:12: "For he will deliver the needy who cry out, the afflicted who have no one to help."
Today's Passage:
Jeremiah 33:6-8
"Nevertheless, I will bring health and healing to it; I will heal my people and will let them enjoy abundant peace and security. I will bring Judah and Israel back from captivity and will rebuild them as they were before. I will cleanse them from all the sin they have committed against me and will forgive all their sins of rebellion against me."
---